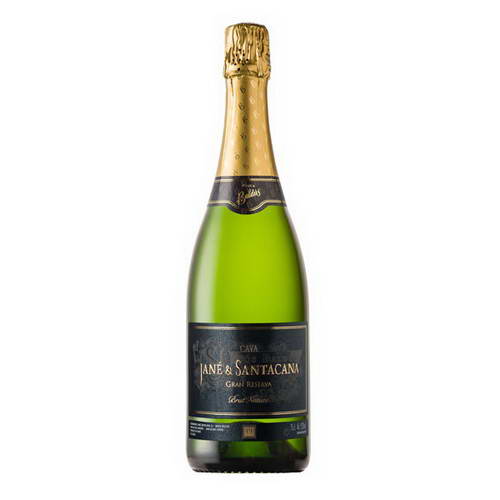 JANE SANTACANA GRAN RESERVA BLACK LABEL
---
7.53$
Type Wine: Sparkling
Alcohol Grade: 11.50º
Litrage: 0.750 l.
Country: 1
Year: 2017
Developer: JANE SANTACANA
---
---
JANE SANTACANA GRAN RESERVA BLACK LABEL | JANE SANTACANA
A noble Cava, extremely dry and with body. Ideal for the most demanding palates. D.O.Cava 60% Xarel.lo, 30% Macabeu and 10% Parellada , native varieties from the vines of our Baldús Estate, we chose the vines with low fruit production, providing a balanced and high quality free-run juice.

Grapes
Macabeo
Parellada
Xarel·lo
| | |
| --- | --- |
| Name | JANE SANTACANA GRAN RESERVA BLACK LABEL |
| Winery | JANE SANTACANA |
| Type Wine | Sparkling |
| Alcohol Grade | 11.50º |
| Litrage | JANE SANTACANA l. |
| Country | Spain |
| Year | 0.750 |
JANE SANTACANA
This traditional Catalan farmhouse, the Masia Baldús, dates from the 17th century, and is a farm that has always lived off its crops and its vines, making its own wine.The estate is situated in the heart of the Penedès region and has an area of 50 hectares (about 123 acres). The make-up of the soil, and the gently sloping hillsides, from 210 to 240 metres altitude, means that it is especially appropriate for the cultivation of vines, above all for the native varieties.


Its edaphological composition and weather is escpecially appropriate for the cultivation of vines:
Macabeu: A withe grape that produces a quality wine; fruity, light and balanced.
Parellada: A white grape that produces a very delicate, fruity, fresh, light and aromatic wine.
Xarel·lo: A white variety that produces a full bodied wine, well balanced and slightly acidic.
Merlot: A black grapethat produces a wine of a good quality.


All our sparkling wines (Cavas) are produced and bottled on the estate.
We carry out the whole production process, from the planting of the vines, caring for the vineyards, the harvest, pressing the grapes, winemaking, racking, bottling, agening, riddling, to disgorging and the final labelling.
Our Cavas are made by the classic system of secondary fermentation into the bottle and aging in the cellar.
The knowledge passed down from parents to children means that we love this land and respet nature and the environment.