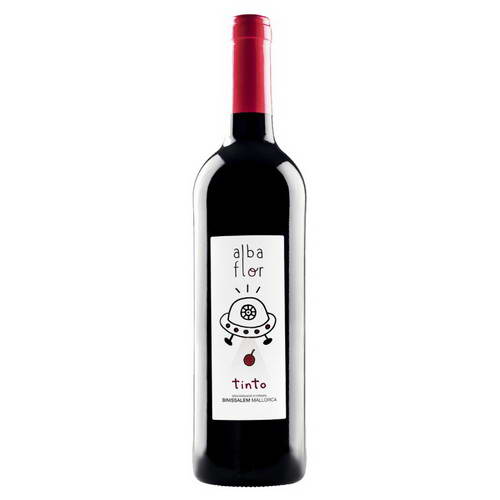 ALBAFLOR RED
---
9.76$
Type Wine: Red
Alcohol Grade: 13.00º
Litrage: 0.750 l.
Country: 1
Year: 2021
Developer: VINS NADAL
---
---
ALBAFLOR RED | VINS NADAL
| | |
| --- | --- |
| Name | Albaflor Red |
| Winery | VINS NADAL |
| Type Wine | Red |
| Alcohol Grade | 13.00º |
| Litrage | VINS NADAL l. |
| Country | Spain |
| Year | 0.750 |
VINS NADAL
Bringing the unique indigenous grapes of Mallorca to your Door
FAMILIAR, TRADITIONAL, SUSTAINABLE
Our wines reflect a sense of place, a landscape of an island with coast and mountains on the same frame, a hot summer day or a cold sunny afternoon. Every bottle is an expression of family tradition, of sharing and coming together, of the Mallorcan culture. Their aromas will remind you of a local market with Ramallet tomato, pomegranate fruits, cherry and fig trees, and herbs of liquorice and fennel. With our wines we wish to take you in an adventure to this place, so you can feel our passion and share with you flavours and aromas of the island of Mallorca.
Vins Nadal Winery is one of the oldest House of Wine in Binissalem, a village located 20 kilometres away from Palma the capital of the Mallorcan island in Spain. Binissalem has always been dedicated to the wine industry since its very beginning due to the influence of the Roman conquerors in ancient times. Today some of the best wines in Mallorca are been made under the Appellation of Origin Binissalem which since its very early settlement has protected the indigenous grape varieties of this valley. Today we are proud to own 7 hectares of indigenous grape vineyards of Manto negro, Callet and Prensal blanc some as old as 60 year with an annual production of around 90,000 bottles bringing this unique product to all of our winelovers.
The AOC Binissalem' s terroir is located in the outskirts of the valley of the Serra Tramuntana mountain range with a privilege Mediterranean weather year around with hot and dry summers and mild cold winters with low rainfall year around and an elegant and persistent ocean breeze enriching the soils with minerality.
Today Vins Nadal produces white, rosé, young and oaky still wines under two brands, Albaflor and 110 Richter. The wine grapes are grown in vineyards where the preservation of life and natural ecosystems, with sustainable agriculture it's our main premise. As a result of the hard work for over the last 12 years now we can produce wines closer to an ecological approach with zero residues concerning the usage of agrochemical agents bringing a safe product to your table. As well as respectful to the environment using biodegradable and eco-friendly packaging in all our products.